Actor and director Satish Kaushik, who entertained audiences with his skill, has died at the age of 66. He was in Delhi when he suffered a heart attack. News of his sudden and untimely death was shared by his close friend and veteran actor Anupam Kher. In an interview, Kher also revealed that Satish Kaushik felt uncomfortable and he told the driver to The car took him to the hospital. But on the way to the hospital He had a heart attack. Both the industry and his fans are mourning his passing. Choreographer and director Ahmed Khan also expressed his condolences while speaking to Pinkvilla.
Ahmed Khan recounts working with Satish Kaushik on Mr. India.
before becoming famous as a choreographer and director Ahmed started his journey in Bollywood as a child actor. He was one of the children in Anil Kapoor, Sridevi and Satish Kaushik starring Mr. India. The movie was directed by Shekhar Kapur and was released in 1987 even today. People still talk about the movie. Particularly about the character's calendar, Satish. While speaking with us, Ahmed shared some great memories from Mr. India's scenes. He was just 11 years old when he debuted.
Ahmed said "I entered the film industry when I was 11 and we went to Film City and had Hawa Hawai rehearsals there. I saw my Grandmaster Saroj Khan perform and I saw an actor there. It was like 'Aise bhi kar sakte hai, waise bhi kar sakte hai thodha' so I was wondering because he's an actor. Why did he tell Saroj ji about the choreography? Then I came to know that he was Shekhar Kapur's Chief Assistant Director in Mr. India and he was an actor too. I remember well and he came to us and said he would be a Calendar (Satish Kaushik's character), that is. The first time we met him and after the film. filming has begun he is our calendar He was the only person who ever yelled at us during filming, Shekhar Kapur never told us anything and Satish Kaushik was the assistant (so he used to call us for filming). Strict with us when filming, but he used to love us the most, used to feed us and him. Because of our calendar, conversation Aaj bhi unka yaad hai 'Calendar khana do'… at my house too. When my wife doesn't feed me I used that conversation (laughs). He lives in the house too. The name of the calendar was with him and went with him. After that, no other calendars were created."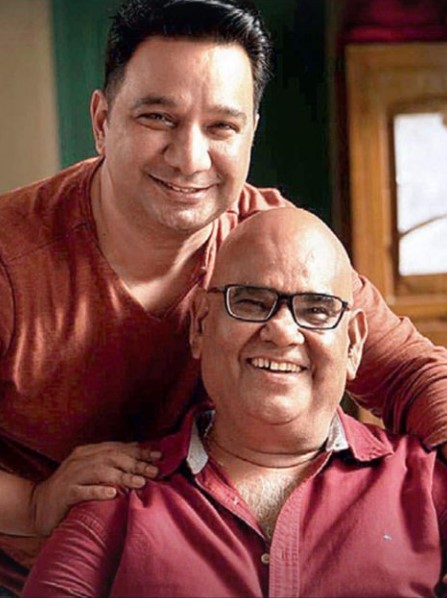 He also spoke about the actor-director relationship with Satish Kaushik, the late actor starring in Ahmed's Baaghi 3. The director also revealed that Satish had shared new ideas. Regarding creating new projects, Ahmed added, "My relationship with him has been growing, I have become a choreographer and I have done movies with him, Mujhe Kuch Kehna Hai, Milenge Milenge, Badhai Ho Badhai him. Made one small movie with the kids, which I did. last movie He directed Kakaz. I also did the choreography for that song. Then I had the privilege of having him in my film Baaghi 3. Then we worked as an actor and director. Baaghi 3 was filmed in 2019 when I was 44 and my relationship started. With him when I was 11 he was always cheerful and joking and he was always trying new things. He used to tell me 'Ahmed, let's do a Twilight Saga type of movie' and he kept thinking. He left us very quickly, 66 years of age is not an age."
read: Satish Kaushik Demise: Salman Khan, Ranbir Kapoor, Shehnaaz Gill and More Bollywood Gather for Final Ceremony
(Tag to translate)Satish Kaushik



Source link